Sports Broadcasting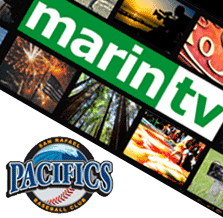 Pacifics Baseball Opening Day, June 4th, 2012
Marin TV's Sports Broadcasting program for Summer 2013 was a resounding success, producing five full-length Pacifics baseball games, all of which aired live on Education Channel 30. Nine high school and university students participated in the training and became well-versed in camera operation, audio mixing, on-screen graphics, directing, and video switching at the ballpark. They also shot and produced their own highlights that recap the filmed games using Marin TV's in-house production studio. This ground-breaking live TV coverage in San Rafael was made possible by a partnership between Marin TV, Dominican University, and the Pacifics ballclub.
We want to thank Meritas Wealth Management for providing support to the channels of Marin TV as an underwriter. Underwriting Marin TV is a critical element to what makes programs like this possible. If you or your business would like to support the work of Marin TV, please go to http://cmcm.tv/underwriting
For further reading check out the Marin IJ here and here and also Dominican University articles. Examples from the sports broadcasting program can be seen below - you can view all of the games and recaps on our Marin TV On-Demand site.