Watch the Leadership Studies Lecture series on Marin TV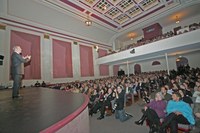 If you missed any of the Leadership Lecture Series events, don't fret, you can now watch them on Wednesday evenings at 8:00 P.M, Repeats Thursdays at 10:00 A.M. on the Marin TV Education Channel (Comcast 30, AT&T U-Verse 99).
(Please see below for specific dates)

Madeleine Albright in conversation with Elaine Petrocelli
Prague Winter: A Personal Story of Remembrance and War
Wednesday, August 7, 2013
Former Secretary of State, Madeleine Albright writes, "No one who lived through the years of 1937 to 1948 was a stranger to profound sadness. Millions of innocents did not survive, and their deaths must never be forgotten." At once a deeply personal memoir and an incisive work of history,Prague Winter: A Personal Story of Remembrance and War, 1937-1948 serves as a guide to the future through the lessons of the past - as seen through the eyes of one of the international community's most respected and fascinating figures.

Gavin Newsom
Citizenville: How to Take the Town Square Digital and Reinvent Government
Wednesday, August 14, 2013
California Lieutenant Governor and former Mayor of San Francisco, Gavin Newsom, presents Citizenville: How to Take the Town Square Digital and Reinvent Government. Newsom discusses how ordinary citizens can use new digital tools to dissolve political gridlock and transform American democracy. By integrating democratic government with cutting-edge American innovation, the lieutenant governor of California charts a bright future for open-source America. Citizenville suggests that the only way Americans can secure their future is by reinventing their relationship to government, just as they have countless times before.

Mary Roach in conversation with Michael Krasny
Packing for Mars
Wednesday, August 21, 2013
Join us for the culminating event of One Book One Marin Award 2013, where Michael Krasney will interview Mary Roach about her book, Packing for Mars: The Curious Science of Life in the Void. Space is a world devoid of the things we need to live and thrive: air, gravity, hot showers, fresh produce, privacy, beer. Space exploration is in some ways an exploration of what it means to be human. Roach takes us on a surreally entertaining trip into the science of life in space and space on Earth.

Isabel Allende
Maya's Notebook
Wednesday, August 28, 2013
Internationally acclaimed author and Marin resident Isabel Allende presents Maya's Notebook. Allende's new novel is a frank and contemporary story about a 19-year old American girl who, while struggling to overcome drug addiction and wrestle her demons, finds respite on a remote Chilean island. There, she unveils a terrible family secret, comes to understand the meaning of love and loyalty, and initiates the greatest adventure of her life: the journey into her own soul. Allende's books include The House of the Spirits, Paula, and Daughter of Fortune.

Salman Rushdie
Joseph Anton: A Memoir
Wednesday, September 4, 2013
In 1989, Salmon Rushdie was phoned by a journalist telling him he had been "sentenced to death" by the Ayatollah Khomeini. Rushdie, an Indian-born British resident, had never heard the word "fatwa." His crime? To have written a novel called The Satanic Verses, a book accused of being "against Islam, the Prophet, and the Quran." In his newest book, Joseph Anton: A Memoir, Rushdie tells this story for the first time, as well as his crucial battle for freedom of speech. He shares the sometimes grim, sometimes comic realities of living with armed policemen, and the close bonds he formed with his protectors and of how he regained his freedom.

Ina Garten
Barefoot Contessa Foolproof: Recipes You Can Trust
Wednesday, September 11, 2013
Join us as Ina Garten, the bestselling author and beloved star of "Barefoot Contessa" on Food Network, talks about her new book,
Barefoot Contessa Foolproof: Recipes You Can Trust. Many home cooks falter when it comes to pairing dishes and planning ahead. With simple tried-and-true recipes and tips, Ina comes to the rescue - and shows how everything can come together effortlessly.
Ina Garten is the author of four previous cookbooks, which have sold more than three million copies. In 1978, Ina Garten left her job as a budget analyst in the White House to pursue her dream of operating a specialty food store. She is a frequent contributor to major national magazines and writes a recurring column in O Magazine.

Eve Ensler
In the Body of the World
Wednesday, September 18, 2013
From Eve Ensler, the bestselling author of The Vagina Monolgues and one of Newsweek's 150 Women Who Changed the World, comes In the Body of the World, a visionary memoir of separation and connection to the body, the self, and the world. As a playwright, author, and activist, Ensler has devoted her life to the female body: how to talk about it, how to protect it and how to value it. While working in the Congo, Ensler is shattered to encounter the horrific rape and violence inflicted on the women there.
She is the founder of V-Day, the global movement to end violence against women and girls, which has raised more than $90 million for local groups and activists, and inspired the global action One Billion Rising.
The Leadership Lecture Series is made possible by the Institute for Leadership Studies and Book Passage. To learn about upcoming speakers for fall, visit: www.dominican.edu/ILS.