Valentine's Day Specials!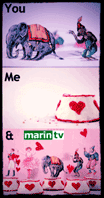 Marin TV, Will You Be Mine?
Are you in the mood to watch some special Valentine's Day videos? Well snuggle up, eat some of that chocolate, and check out our amazing array of love shorts that will make you fall in love all over again.
The specials will be playing today at 6PM and repeating at 9:30PM on the Marin TV Community Channel.
The shorts include an animated creature looking for love, a stop motion animation of two people snailing (yes snailing) in love, a D.I.Y. Valentine's Day cake creation, and lastly a wonderful piece searching for the clues of love - shot on Super 8 film.
These shorts will play throughout the day!