Thanks, Volunteers!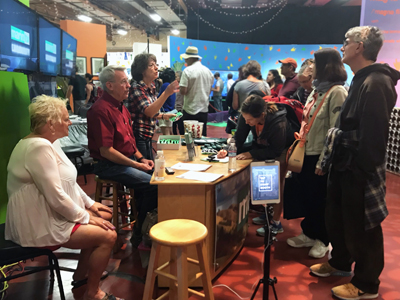 We are proud to conclude another successful run at the Marin County Fair! A heartfelt thanks to all of the volunteers who represented CMCM. Your time, energy, and support mean the world to us. Simply put -- we couldn't be the wonderful organization we are without members like YOU. We would also like to thank local artist Dickens 44 for lending his captivating "Selfie Hipsters" for our animated photobooth. His art stole the show and inspired children and adults alike!
We also owe a big shout out to John MacLeod, the executive director of XRlibraries (formerly VARLibraries), without whom we wouldn't have our prime location in the Exhibit Hall! Thank you for inviting us to share your space year after year.
Finally, thank you Marin! Your participation and enthusiasm make public media possible. We're so glad you stopped by. Hopefully, we'll be seeing some new faces around the center soon.