Sesiones Informativas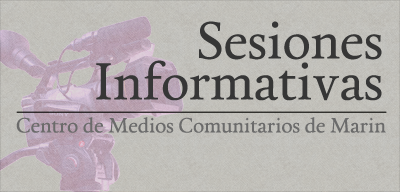 El Centro de Medios Comunitarios de Marín (Community Media Center of Marin) y Los Servicios Comunitarios de San Rafael se complacen en anunciar las sesiones informativas en español acerca de los medios comunitarios qué se ofrecen en el condado de Marín. Las sesiones informativas, qué se realizaran al fin de Marzo y el principio de Abril, tienen la intención de informar a los residentes hispanohablantes acerca de los medios comunitarios y recursos qué ofrece el Centro de Medios Comunitarios de Marín.
En CMCM nuestro compromiso es a ofrecer nuestros servicios en una manera equitativa a todos los residentes, organizaciones, instituciones educativas y agencias gubernamentales de todo el condado de Marín. Los medios comunitarios se enriquécen con la participación de residentes de todos los orígenes y lenguas.
Ayúdenos a difundir la información acerca de las sesiones informativas qué se realizaran en el Centro Comunitario Albert J. Boro para hacer qué los medios de comunicación de la comunidad sean accesible para las personas qué no hablan inglés.
Miércoles 26 de Marzo de 7 a 9 pm
Sábado 5 de Abril de 2 a 4 pm
Admisión es gratis
Albert J. Boro Centro Comunitario
50 Canal Street San Rafael Ca 94901
The Community Media Center of Marin (CMCM) and the San Rafael Community Services are pleased to announce the first Spanish-language information session to community media to be offered in Marin County. The late March and early April information sessions are aimed to inform Spanish speaking residents of Marin about how community media works and what resources CMCM can offer them.
CMCM is committed to providing our services equally to all residents, organizations, educational institutions and government agencies throughout Marin. Community media is enriched by engaging with the residents of all backgrounds and languages and CMCM would like to encourage multicultural involvement in the center on all levels.
Please help spread the word about the information session dates to be held at the Albert J. Boro Community Center and make local community media more accessible for non-English speakers.
Wednesday March 26th 7-9pm
Saturday April 5th 2-4pm
Free Admission
Albert J. Boro Community Center
50 Canal Street San Rafael Ca 94901