Producer Profiles: Cheryl Scheuer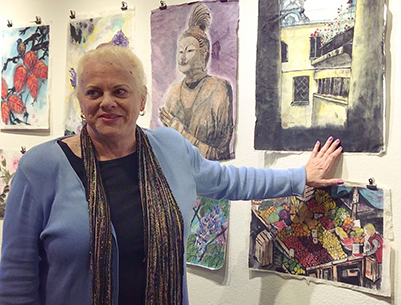 Your Name:
Cheryl Ann Scheurer, PhD
The Title of Your Marin TV Series:
"Wake up with Dr. Cheryl - Wealth Transformation"
 
 
In a nutshell, describe your CMCM series:
The purpose of the show is: "To raise the awareness and consciousness in the relationship with Wealth and apply Unconditional Love.
  
Where were you born?
Redwood City, California
 
 
Where were you raised?
From 0 to 5 in Palo Alto, CA and from 5 until 21 in Bellevue, WA.
 
 
If you attended college ... What was the name of the school?  What was your major?
In high school, during the summers I attended ITT Peterson School of Business.  I finished my B.S. in Business Administration, M.B.A. in Finance and PhD in Financial Management and Business Administration from Almeda University, which is an online university.
I am also a Minister in the Universal Life church and studied for 3 years in the Religious Science Church.
 
 
What is/was your occupation?  How long have you been in this profession?
Accounting and Financial Executive in the Corporate environment for 10 years.  Had an Accounting and Tax Planning Business Practice for 17 years as a sole proprietor.  Wealth Wellness Consultant.
 
  
What inspired you to produce your own TV series?
 
As I was mentoring a client, she saw my passion for the subject and suggested I go to Marin TV and I took the classes to begin my show.   I knew that people needed to heal and become more aware about their relationship with wealth and money and wanted to give opportunities and examples in my shows.  
 
 
What is your favorite part of TV production?
 
Interviewing my guests. 
 
 
What is your least favorite part?
Making sure that the crew is in place for the shows.
 
 
What advice would you give a new CMCM member who wants to produce a Marin TV series?
 
It takes perseverance and persistence.  You also need to come from your passion and purpose to orchestrate the whole message and produce shows.
 
What was your favorite TV show growing up?
Mr. Ed., Mr. Rogers, Leave it to Beaver, To Tell the Truth and more. 
 
What is your favorite TV show now?
As time goes by and I don't really watch TV, but I do watch sporadically on the internet. 
 
 When you're not wearing your CMCM "producer" hat, what do you for fun?
Take walks, ride my bike, visit with friends, travel, paint, listen to music.