Mexican Arts Festival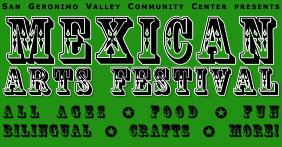 Saturday, June 21
San Geronimo Valley Community Center
Free
Join us for food, music, dance, art, and fun this Saturday at the Mexican Arts Festival, at the San Geronimo Valley Community Center.
It will be an interactive celebration for the whole family, with Norteño rising stars Tenientes del Norte (as heard on 107.1 and 98.7 FM), the kids of the Revivir la Cultura dancers, Latino Photo Project, Aztec dance and more, co-sponsored by the Community Media Center of Marin.
FREE
Saturday, June 21, 2014
6350 Sir Francis Drake Blvd.
San Geronimo, CA 94963
Information: 488-8888
En Español:
El Centro Comunitario del Valle de San Gerónimo Presenta: Festival de las Artes de México Sábado 21 de junio, 12-5pm Celebración Interactiva para toda la familia
Música • Baile • Comida • Artesanías y Más • Brincolín • Nos divertiremos!
Con el grupo norteño Tenientes del Norte (han tocado en las emisoras de radio 107.1 y 98.7 FM), los niños de los bailarines Revivir la Cultura, Proyecto de Fotografía Latino, danza Azteca y más! Gratis. Comida auténtica, cómprela por separado. En el patio detrás del Centro Communitario Información: Nicole Ramirez (415) 306-1616 - with Alejandro Moreno S.