Marin TV Studio back in production!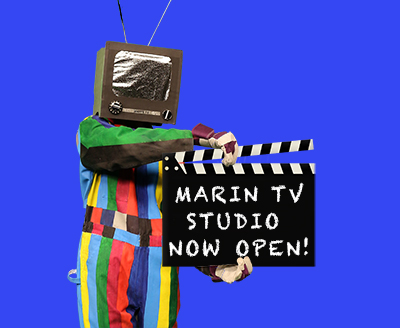 Lights!  Cameras!  Action!  The Community Media Center of Marin is pleased to announce the re-opening of the Marin TV production studio effective immediately.
 
Studio-certified CMCM members are welcome to reserve the Studio during regular "block" periods  – Tuesdays, Wednesdays, Thursdays from 2 – 5 PM or 6 – 9 PM; Fridays and Saturdays from 11 AM – 2 PM or 3 – 6 PM.
 
Reservations must be made on CMCM's new content management system – RueShare.  Please email jill@maraintv.org to receive a "Member Invite" that will enable you to activate your RueShare account and begin using the new CMCM reservation system.
 
The studio will operate at 50% capacity.  No more than three people in the Control Room; no more than three people in the Studio.  Social distancing will be enforced.  Mask wearing will also be required, except for talent appearing on camera.
 
Please note that COVID pandemic protocols will be strictly enforced in compliance with California State and Marin County guidelines.  Members will have their temperature taken at the door, and anyone with a measured temperature of 100.4° F (38° C) or greater will not be allowed entrance. 
 
There will be an initial survey form and an ongoing sign-in procedure so that we can track attendance at the center at any particular time in the event contact tracing is necessary. As stated in our previous "Re-Open" announcement, this may all seem bureaucratic, but it is to ensure that members and staff are protected to the best of our abilities and can stay healthy and well.
 
Again, CMCM is grateful to our members, and wants to acknowledge the patience everyone has displayed during this most challenging past year.  Let's turn the channel now – to Marin TV!