Marin City 80 Blues 'N' Soul Party In The Park - Labor Day Live!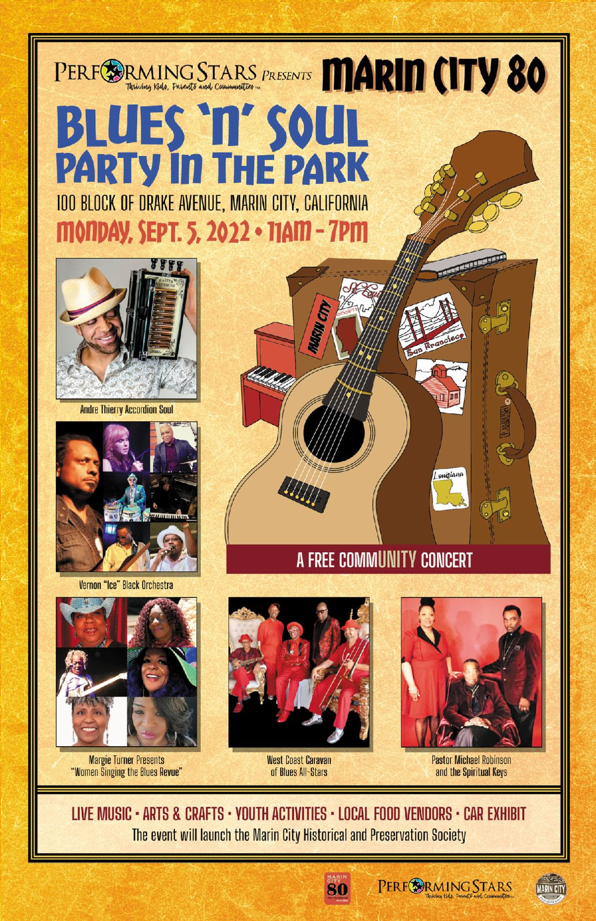 MARIN CITY 80
BLUES 'N' SOUL PARTY IN THE PARK
Monday, September 5th, 2022
MC80 EVENT: 11:00 AM to 7:00 PM PST
LIVE BROADCAST: 5:30 to 7:00 PM PST (live on Channel 30)
100 Block Of Drake Avenue, Marin City, CA
A FREE COMMUNITY CONCERT
Join the celebration of Marin City 80 featuring Gospel, Blues, Zydeco, and Soul with Bay Area Artists, Arts and Crafts, Activities for Youth, Car Exhibit, and Delicious Local Food Vendors.
SHOW SCHEDULE
11:00 AM - 11:15 AM
Indigenous Invocation
11:35 AM - 12:35 PM
Pastor Michael Robinson and the Spiritual Keys
12:55 PM - 1:55 PM
West Coast Caravan of Blues All-Stars
2:15 PM - 3:45 PM
Margie Turner Presents "Women Singing the Blues Revue" featuring Earnestine Barze, Pat Wilder, Lady Bianca, DeJeana Burkes, Niecey Living Single
4:05 PM - 5:05 PM
Vernon "Ice" Black Orchestra featuring Fred Ross, Carrie I'Man, Frank Martin, Myron Dove, Billy Johnson, Juan Escovedo
5:30 PM - 7:00 PM
Andre Thierry Accordion Soul
Event Info Website: https://www.marinarts.org/event/marin-city-80-blues-n-soul-party-in-the-...