June Media Mixer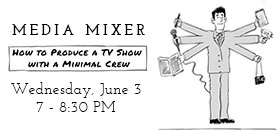 Join the June Media Mixer Featuring Dr. Cyrus Thomas, producer and host of "Alternative Medicine." He will give a short presentation on how to produce a good
quality TV show and how to streamline the many facets of producing a studio shoot and creating a fun atmosphere for the volunteer crew.
Come learn and enjoy mixing, music, and refreshments.
Join us on Wednesday, June 3, from 7 to 8:30 PM.