February Media Mixer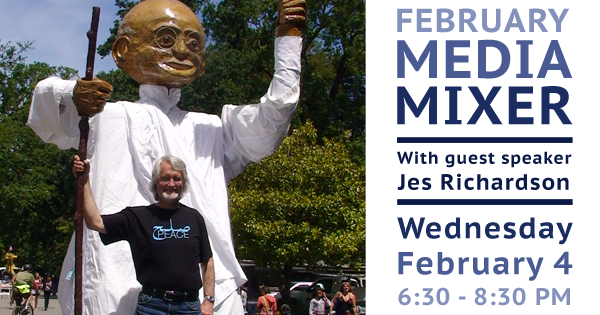 Jes Richardson will be premiering, "The Beautiful People of Iran", a 20 minute video-piece, at the February Media Mixer. Richardson is a peace activist (credentialed teacher, board member of the Social Justice Center of Marin and a CMCM member) and founder/director of "Bridge of Hearts", also the creator of the ten foot tall Gandhi Puppet that has attended many events in the Bay Area. Richardson has been to Iran in 2007 and 2010. He will be taking his newest creation, "The Gandhi Peace Train" to Washington DC this Summer to encourage Congress to support the current negotiations with Iran. As he travels he'll be showing "The Beautiful People of Iran" at house parties and other venues along the way.
Jes will invite six young Iranian­ Americans to join him hiking the "Angel Trail" in Israel. The 580 mile trail will be hosted by "100 Angels" who live along the trail, and who will be providing shelter for the hikers Find out more at israel121c.org.
Jes' organization "Bridge of Hearts" is dedicated to creating friendships between young people around the world. Gandhi was convinced that world peace is achievable, explained Jes; Gandhi once said "If we are to have real peace we must begin with the children".
The Gandhi Puppet will be traveling in style on the "Gandhi Peace Train". Jes says the train has a bubble making machine that sends out "seeds of hope" to the World. He explains that they will be raising money to send the six young folks to Israel to hike the Angel trail.