FCC Open Internet Roundtables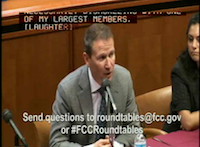 The FCC received more than four million public comments for their upcoming deliberations on net neutrality. The FCC is now holding a series of Roundtables on these Open Internet issues as the commission develops a regulatory framework that will shape the internet of the future.
Tune in for these live roundtables on Marin TV's Education Channel (Comcast 30 / AT&T 99). The programs will also be scheduled for replays at a later date.
Effective Enforcement of Open Internet Requirements
Friday, September 19
7 - 9:30 AM
Technological Aspects of an Open Internet
Friday, September 19
10:30 AM - 1:30 PM
Economics of Broadband: Market Successes and Market Failures
Thursday, October 2
Time TBD
Internet Openness and the Law
Tuesday, October 7
Time TBD
See the FCC site for more info