Drake High School Graduation LIVE on Marin TV Friday, June 12 (2:30 - 6:00 PM)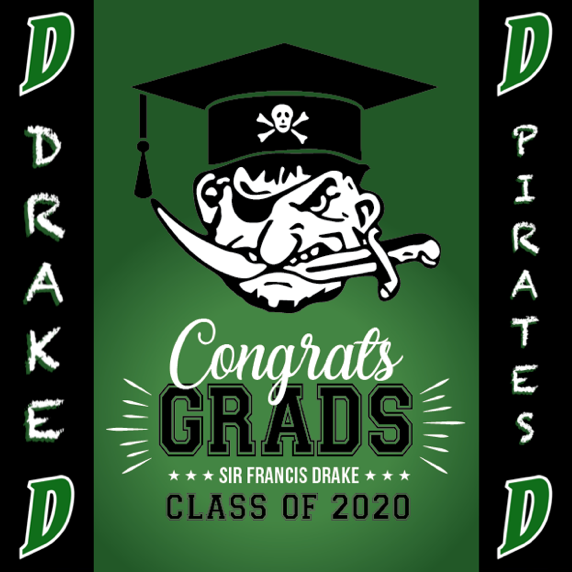 Congratulations, Pirates!
The Sir Francis Drake High School Class of 2020 isn't letting the COVID-19 pandemic ruin their graduation plans. Seniors will receive their diplomas in an innovative "Drive Through" ceremony at the school on Friday, June 12 from 3:00-6:00 PM
Respecting social distancing protocol, Principal Liz Seabury, with Assistant Principals Chad Stewart and Nate Severin, will pass out diplomas to graduates, who will demonstrate their Drake Pride as they step out of their cars dressed in green caps & gowns.
Drake's ComAcad students will crew the production under the supervision of instructors John MacLeod (Director at XRLibraries and Marinovation Learning Center) and Omid Shamsapour (Director of Education & Production at the Community Media Center of Marin). The ComAcad team will then be assigned a Summer project to edit the live footage and create a final graduation piece later in the year. Stay tuned!
The Drake "Drive Through" Graduation Ceremony will be available to view live on Marin TV's Education Channel (Comcast Channel 30) beginning at 2:30 PM and will conclude at 6:00 PM. The proceedings will also be live streamed at: Marin TV's Education Channel 30