December Producer Spotlight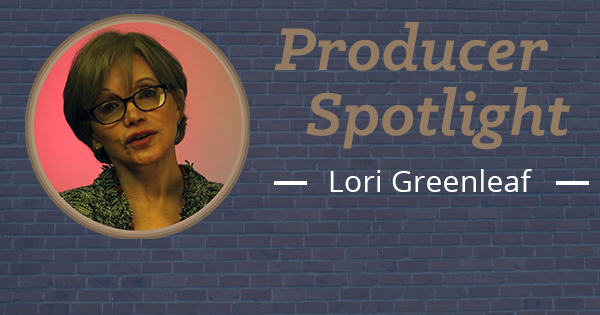 Your Name:
Lori Greenleaf
How long have you been a member of CMCM?
Since 2009
The Title of Your Marin TV Series:
Healing From The Ground Up. ( HFGU)
In a nutshell, describe your CMCM series:
Conversations with interesting people who are doing good works toward healing the planet and its citizens. Including but not limited to : teachers, therapists, philosophers, artists, politicians, spiritual leaders, indigenous healers, innovators,...etc.
Where were you born?
Philadelphia, PA
Where were you raised?
Philadelphia
If you attended college ... What was the name of the school? What was your major?
1 Philadelphia College of Art, 2. San Francisco Art Institute ( BFA) 3. College of Notre Dame (MA -psychology) 4. Center for Psychological Studies ( PhD -psychology)
What is/was your occupation? How long have you been in this profession?
Psychologist: licensed MFT. Practicing since 1991.
What is your favorite part of TV production?
Working together with a talented, creative and generous crew, staff and guests. To see it all come together in the production, editing and final product. It's an honor.
What is your least favorite part?
No least favorite. Or it varies show to show. Sometimes stressful, sometimes not so.
What advice would you give a new CMCM member who wants to produce a Marin TV series?
Read the CMCM instructions about requirements for productions, take the class,.. keep a journal, talk up your idea ...communicate your ideas and wishes,...secure a crew, schedule the studio,... And Do It ! Praise and feed your crew,..
What was your favorite TV show growing up?
I was not too interested in TV growing up. I was into art, dancing, and overwhelmed with homework. I liked going to the movies. The first TV show I really enjoyed was Seinfeld and always SNL.
What is your favorite TV show?
We watch the news and try to vary the perspective. We like Steven Colbert and the Daily show and are currently watching Homeland. Generally we don't watch much commercial TV. I like well made documentaries better than TV.
When you're not wearing your CMCM "producer" hat, what do you for fun?
I enjoy my work (as a marriage and family therapist) and doing art, hiking, yoga