Code Across Marin - February 21st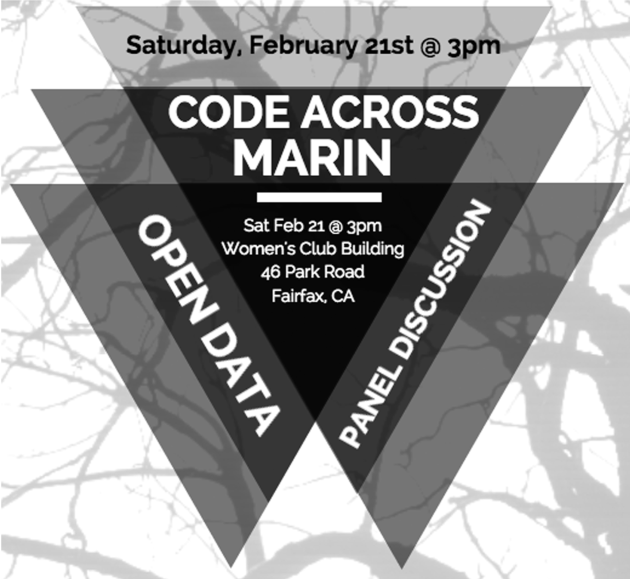 Code Across Marin
February 21, 3-4:30pm
Fairfax Women's Club - RSVP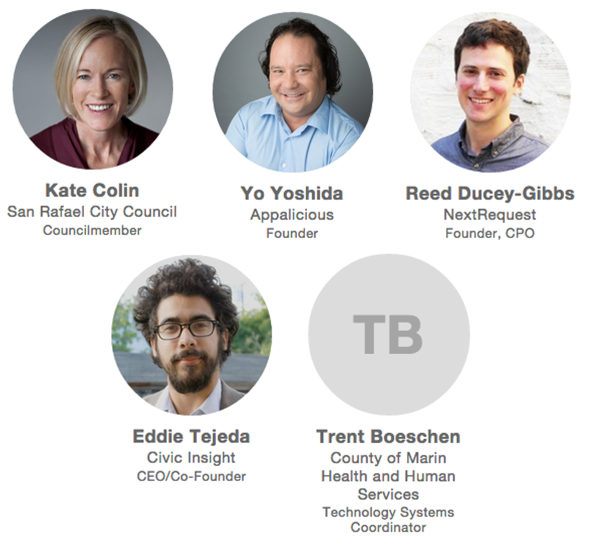 Code Across Marin will be a panel discussion to help build awareness about "open data," a form of information that lends itself to free innovation and app development.
The panelists are Kate Colin (Councilmember, City of San Rafael), Reed Ducey-Gibbs (Founder, CPO of NextRequest), Eddie Tejeda (CEO/Co-Founder of Civic Insight), and Yo Yoshida (Founder of Appalicious). Spanning the range from elected officials to IT staff, coders, and technologists, our panel will explore what open data is and what it can do for us.
They will also address your questions and suggestions sent ahead of time to brigade@codeformarin.org. Questions will be prioritized that deal with ways to improve government-public communications, infrastructure, information requests, civic engagement, and the accessibility of community resources. The resulting dialog should help build the foundation for attracting developers to build the apps Marin needs--apps built specifically for our towns and neighborhoods. In the spirit of open data, this event is free to the public and will have a lengthy public Q+A to address all questions and concerns.
The public's input is needed. Email brigade@codeformarin.org with your questions and discussion suggestions. Input during the Q+A is also encouraged, as local knowledge and perspective will be vital to the discussion. It's the perfect time to let your voice be heard as well as network with your neighbors.
The event will also be filmed and streamed online as Marin's contribution to Code Across America 2015 and Open Data Day.
RSVP, download an event flyer, and email your questions and suggestions to brigade@codeformarin.org to add to the panel discussion topics.
Please visit codeformarin.org and see the video below for more info.