Ask the Experts - CMCM Master Classes | April 3 - May 8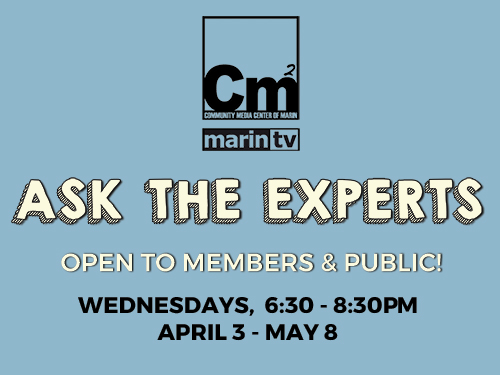 Ask the Experts - CMCM Master Classes
CMCM's popular series of master classes returns with compelling media-related topics presented by experts in their field. Free for CMCM members. Non-member fee of $25 includes one-year membership to CMCM and FREE admittance to all events in the series.
Follow the link to sign up!
https://marintv.org/asktheexperts
Class Schedule
Get Mac Savvy | Wednesday, April 3 6:30 - 8:30 PM:
Are you a PC user, but want to test the Mac waters? CMCM's Education guru Scott Calhoun will have you jumping into the Macintosh operating system "pool" with big screen demonstrations. Email any specific questions you have in advance to scott@cmcm.tv.
Mastering Video for Social Media | Wednesday, April 10 6 6:30 - 8:30 PM:
Discover how to use video simply and effectively to expand your reach, accelerate your social media marketing, position yourself as the expert in your field, and connect with your followers on a whole new level. Video marketing expert Mike Wolpert shows you how.
Being a Working Director | Wednesday, April 17 6:30 - 8:30 PM:
Oscar and Emmy-winning director John Korty inspired George Lucas and Francis Ford Coppola to make movies in the Bay Area. Let him inspire you with information and insights gleaned from 50 years as an acclaimed filmmaker.
Grow Your YouTube Subscribers | Wednesday, April 24 6:30 - 8:30 PM:
Learn the secrets of success from Kelly Kruger, creator, producer, and host of the Marin TV series "Ingenious Baby," who has grown her subscriber base from zero to 10,000 (with a quarter million views!) in just one year.
Welcome to Virtual Reality | May 1 6:30 - 8:30 PM:
Experience how virtual reality is on track to become the world's go-to communication medium. John MacLeod, award-winning founder of XR Marin, one of the first immersive virtual reality enterprises in the nation, leads the way.
Finding Things Out | May 8 6:30 - 8:30 PM:
Guided by Emmy Award-winning TV news anchor and journalist Tiffany McElroy, learn tips, tools, interview skills, and techniques to uncover the information you need. Whether for a video -- or your life -- this interactive workshop will have you feeling like a pro!