"Virtual Fiesta" Gallery Exhibit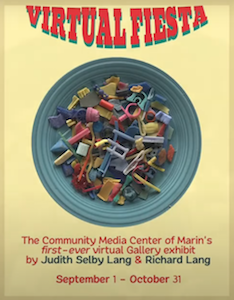 The Community Media Center of Marin is proud to present its first virtual gallery exhibit, "Virtual Fiesta," which is intended to bring awareness to California Coastal Cleanup 2020.
Artists Richard Lang and Judith Selby Lang have rambled the tideline of Kehoe Beach, Point Reyes National Seashore for more than 20 years.  After hundreds of visits along 1000 meters, they have gathered plastic debris washing out of the Pacific Ocean and collected more than two tons of material.
By "curating" these pieces of plastic, the collaborative team has fashioned it into works of art that matter-of-factly represent, with minimal artifice, the material as it is. The viewer is often surprised that this colorful stuff is the thermoplastic junk of our throwaway culture.
For more information about the Langs and their work, visit
https://www.beachplastic.com/
https://oceanic.global/judith-richard-lang/
For more information about California Coastal Cleanup 2020, visit
https://www.coastal.ca.gov/publiced/ccd/ccd.html