The Georgia Annwell Gallery
The Georgia Annwell Gallery, part of the Community Media Center of Marin, is located at 819 A Street in downtown San Rafael. The gallery was named after Georgia Annwell, an eclectic artist and prolific producer at CMCM. As a member of CMCM and the Novato Arts Center at Hamilton Field she created over 150 exhibitions while also working on the production of a three-part documentary series titled "Senior Artist of Marin."
"Great art challenges not only the viewer but also the artists who create it. Most artists paint what they know and do it to the best of their ability. A few artists take on creative work that challenges their knowledge and reveals their inabilities. However, when they do overcome this kind of challenge, they realize that the rewards are huge. Artists who need ongoing reassurance that they are on the right track may miss the opportunity to reach past their comfort zone to experience the thrill of pleasing themselves with a painting that shares the truth of their view of the world."
- Georgia Annwell
The gallery helps to advance CMCM's mission of promoting cultural arts, community media, and civic engagement by showcasing the work of established and emerging artists. Public programs such as artist talks, film screenings, art performances, and social events enhance our overall mission by supporting further opportunities for conversations to take place.
Artists interested in exhibiting their work in the Georgia Annwell Gallery are asked to fill out this
Application Form and submit 4-5 high-resolution images to alejandro@cmcm.tv
Selection Process: Once an artist has submitted all materials, the application and materials will be reviewed and respond to the artist within 3 weeks of submission. Exhibitions are scheduled many months in advance. Once selected, a meeting will take place to set the exhibition dates and define the schedule of tasks to precede the opening reception.
Commission: CMCM does not take any commission.
Liability: All work will be handled by the artist. The Georgia Annwell Gallery will not be responsible for work lost or damaged in transit to and from the gallery. Artists are responsible for shipping cost to and from the gallery. A liability release document will be signed by the arts and gallery administrator.
Mujeres Luz: A Painting series by Talavera-Ballon
Showing through Saturday, September 30, 2017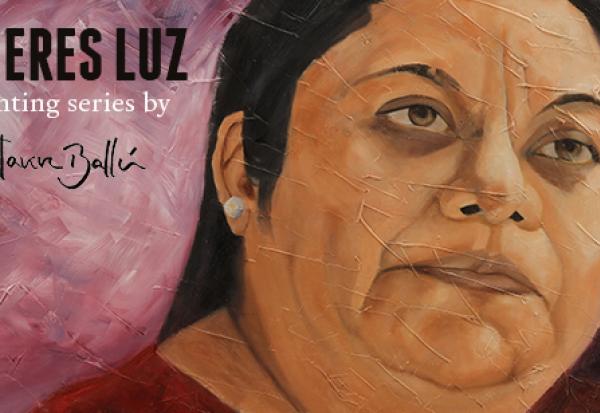 Mujeres Luz is a series of paintings inspired by the film All of Me (Llevate mis Amores). After watching the documentary at the San Francisco Film Festival, Talavera-Ballón traveled to Veracruz, Mexico to meet and paint these incredible women.
About Claudio
Talavera-Ballón is a Peruvian-born painter based in San Francisco, CA. A disciple of acclaimed artist Luis Palao Berastain, he skillfully captures the essence of ordinary people's lives and their surroundings across diverse regions and cultures of the Americas. He explores themes that highlight important social and cultural aspects of the people and places he has encountered. His work is also a tribute to immigrants like himself who left their home countries in search of new horizons.
Talavera-Ballon has exhibited in several art galleries, museums and universities across Perú, Chile, Argentina and the US including the U.S. Embassy, Lima, Peru; Museo Qoricancha, Cuzco; Museo de Arte Contemporáneo, Cuzco; the Peruvian Embassy, Washington, DC; the Latino Art Museum, Pomona, CA; the Mission Cultural Center for Latino Arts, San Francisco, CA, UCSF, UC Berkeley, and Galería de la Raza, San Francisco, CA. He has been selected for the San Francisco Arts Commission 2015-2016 Pre-Qualified Artist Pool and as a finalist in ArtSpan's 2015 San Francisco Open Studios Guide Cover Competition. He has also participated in several live painting events such as Friday Nights at the de Young Museum and Art Beats SF. He has been featured in several publications and newspapers, including the SF Chronicle and 7 x7 and appeared on television and radio in California and Peru.